Summary: Man Cheung Po is a nice semi secluded site accessed by a pleasant 3-4km hike through mostly covered forest paths. The trek out can be considered easy to moderate and should be manageable for most young children and all healthy adults. The only slightly challenging aspect is a +/- 200m gradual incline from the start of the trail to the campsite, all on well maintained paths. There is nice scenery along the way and the campsite itself is situated on a small hill with a fresh water source located just down the path from the back most site. Several of the campsites are very exposed so a tarp should be included in your gear load out incase one of the more shady sites is not available. You'll also have to bring in all your food as there are no shops near the campground, but all other standard Hong Kong campsite amenities are present including clothes lines, fire pits, stone benches, tables and a dry toilet pit. There are temples situated in the mountains around the campground with one in particular visible from at least 3 of the 5 designated sites, but aside from that you are pretty removed from populated areas resulting in a relatively quiet atmosphere. I went on a weekday with fantastic weather and only bumped into 2 campers who were on their way out and two hikers that were just passing through. I could see it getting kinda of busy on nice weekend days, but generally speaking I'd assume this would be a less busy location overall. Bring the kids or go solo and recharge your batteries. Man Cheung Po is definitely worth a visit.
What I liked:
Campsite Environment: Following the trend for Lantau, Man Cheung Po is a well maintained relatively trash free mountain site with nice views and a pretty little river running along the South Eastern edge. Stars abound on clear nights with a gentle breeze keeping things cool.
The Approach: The hike in is actually quite nice. The initial approach is on an access road by a water conduit with some nice mountain views and then things get a bit nicer still once you turn off onto the trail.
Seclusion: The site is just far enough out that it won't be frequented as much as other more accessible sites, but the hike out is easy enough for just about anyone to get to.
Fire Making: Enough deadfall to make small evening fires.
Water Source: The small river that runs the eastern edge of the camp has clear water that empties into two separate clear water pools where you could take a dip if you were feeling adventurous, just be sure to wear protection for your feet.
What I didn't:
The Commute: Getting to the trail head from Hong Kong Island means taxis, ferries and buses. Its not horrible but would certainly be a consideration if you were planning on brining a lot of gear or a big group especially if small kids are in tow.
Minor Ascetics: The main entrance to the campground has a mysterious chainlink fence running the northern edge and there are some power lines running up to one of the monasteries that can be seen from some of the camp sites. Neither issue is a show stopper but would be better if they weren't there.
Top Tips:
Bring a Tarp: If you choose or get stuck in one of the more exposed sites you'll need a tarp to keep the sun and or rain off.
Follow the Marked Trail: If you use your phone and google maps to determine the best approach you may get taken down a closed trail. This route is shorter but in disrepair and at the last section before linking back up to the main trail you have to pass through about 20m of private property. The closed trail is actually pretty charming but you are better off following the marked trail to be safe.
Plan for Day Hikes: If you plan to arrive early or stay more than one night make sure to hike out to Man Cheung Po's infinity pool. You can have a swim here and at several surrounding water features all within 1 to 2km of camp.
PHOTOS & VIDEO
CAMPSITE VIDEO TOUR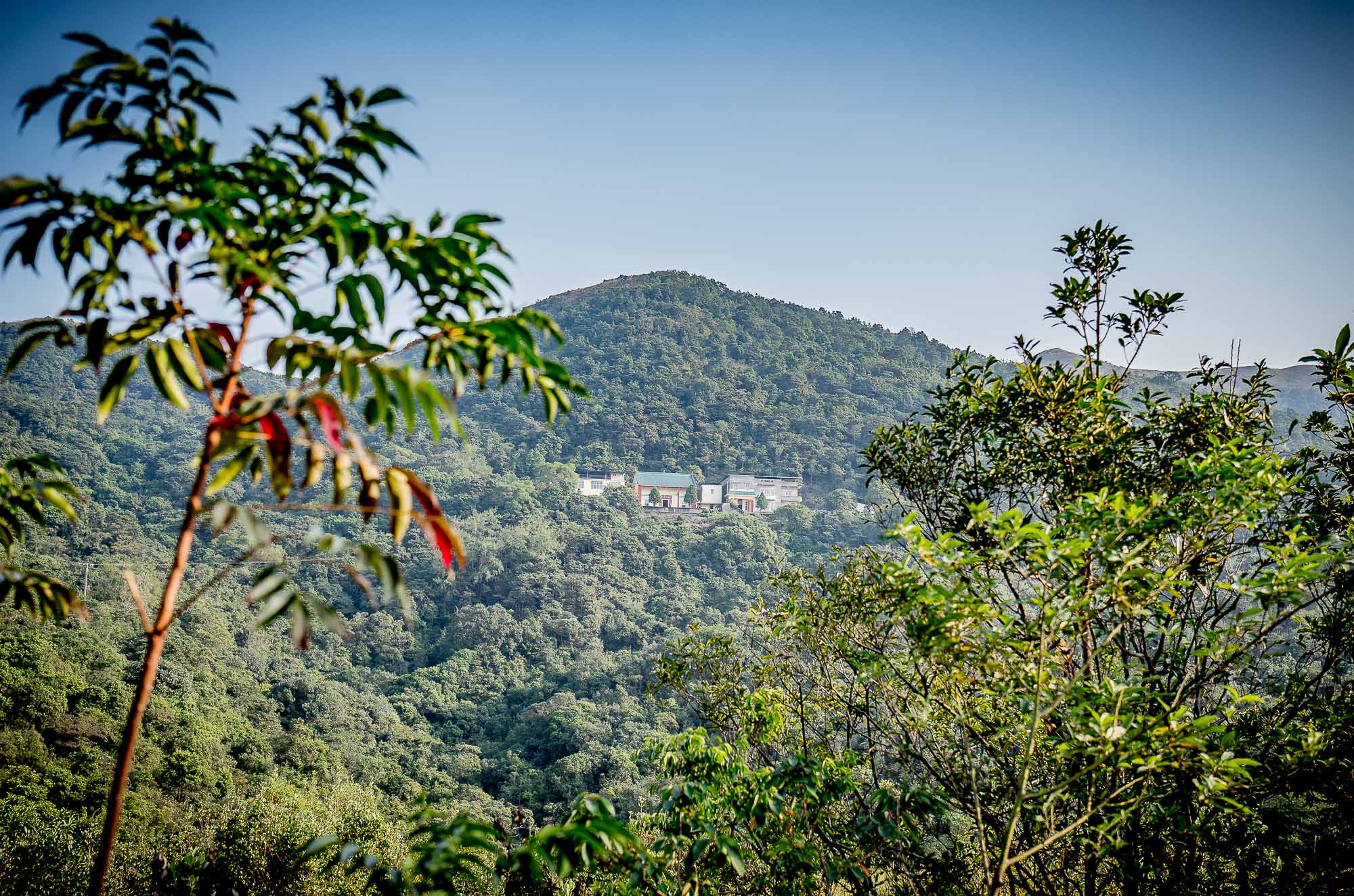 Man Cheung Po is a nice balanced campground that makes for a peaceful getaway as long as you don't mind a bit of a commute to get to the start of the trail. This one works for solo trips or with friends and family so be sure to put it on the priority list.
Not much in the way of outright negatives for Man Cheung Po. Trash is scarce, the approach is nice and the site is comfortable. The only small issues are the commute to the start of the trail and the numerous guard dog warnings, though I didn't see any ferrel dogs or cows during my visit.
DETAILED REVIEW
OVERVIEW
Man Cheung Po is a secluded site that spans the top of a small bluff in the hills of western Lantau. It has a nice balance of resources and amenities and leaves you feeling secluded during your stay. The biggest challenge for this location is the commute to the head of the trail. To get there, unless you are located on Western Lantau you'll need to take multiple modes of transport, then its a little over 1km on access roads until you get to a pleasant uphill path that eventually leads to the campground. The path is generally very nice with lots of tree cover making it manageable in pretty much any weather.
Once on location there are 5 campsites with two situated together at the highest point on the hill. These two are very exposed, but the other 3 sites have some form of tree cover available, with the southern most site heavily shaded and closest to the main water source. This site is arguably the best location to set up camp if it's available with the only drawback being its close proximity to the only dry toilet pit at the campground. The first two sites are ok options but a little close to the approach path so if you want maximum separation go for the double site on the bluff or the site furthest south. If you stay on the bluff you'll need to bring a tarp for shade and cover from the elements as previously referenced and in the hotter months even with proper equipment I would avoid this spot if possible. With that said, in the cooler months its actually quite nice on the hill and definitely provides a great view of the night sky on clear days.
There are stone seats, tables, and clothes lines available with lots of dead wood around for small fires. In addition there is a great stream that runs at the bottom of the hill from the Southern most site that cascades down through a few small pools that you could probably have a nice soak in if you were feeling adventurous.
Overall Man Cheung Po is a great little site with the right balance of amenities and nature. The commute to the start of the trail is a bit of a pain but the walk out is a manageable 3-4km trip that should be fine for healthy families and hikers alike.
VERDICT
The excursion to the start of the trail, despite all its hassles is worth it if your looking for a quiet, clean well balanced campsite. You get the added benefits of the nice stream and some nearby points of interest for day hikes, and as long as you prepare your gear properly you can't go wrong with any of the 5 sites a the campground. Go solo, with a friend, or bring the kids, this one work for just about anyone as long as you plan properly.
FAMILY FRIENDLINESS
RECOMMENDED FOR SMALL CHILDREN: This one is definitely worth a look for families that don't mind planning their trip out. The hike is manageable if you pace yourself and your kids are used to 3-4km walks, and as long as you bring all the supplies you need with you it will be a fund time at camp for everyone.
SITE FEATURES
Number of Tent Sites: 5
Site Facilities: BBQ Pits/Fire Pits, Trash Bins, Cloths Drying Lines, Stone Tables
Campground Facilities: Portable Toilets
Fire: Deadfall to use for small camp fires in cooler months
Beach: N/A
Fresh Water: Fresh water stream with large pools that should maintain year round
Nearby Resources: N/A there are temples and some habitation near the head of the trail for emergencies but no supplies
GEAR RCCOMENDATIONS
Man Cheung Po is a relatively remote site with no facilities near by but does have a potable water source on site if you are prepared to boil or purify at camp. With that in mind please first review my STANDARD SOLO CAMPER GEAR LIST for what I believe are the "must have's" for any camping excursion, followed by the specific additional items and considerations for Man Cheung Po.
Given the potential for setting up on some of the more exposed sites you should be sure to bring a tarp. In addition I would recommend a camp chair given the relatively easy hike.
NOTE ON TENTS: Hong Kong is tropical which means there are lots of creepy crawlies at night and a constant possibility of heavy down pour which is why I recommend the full tent with rain fly and inner mesh. You can get away with a tarp alone but spray for mozzys before bed and don't be surprised to wake up several times a night to brush off bugs, mice and or rats even in the winter months (hammocks might be a little better but not fool proof for bugs or some snakes if not fully enclosed). Last point, Hong Kong is also home to many species of venomous insects and snakes and though I think it would be a very unlucky scenario were you to encounter one in your sleep, a fully enclosed tent removes the risk almost entirely if you keep entrances zipped. Again, I highly recommend a fully enclosed tent regardless of your level of experience outdoors.
ACCESS TIPS
The best way to get to Man Cheung Po is by taking the Mui Wo Ferry and taking a bus or taxi to the trail head on Tai O Road on the western side of Lantau. You can also get there from Tung Chung by having a taxi drop you at the trail head, or by taking a bus. To make things more simple, lets assume a bus ride from Tung Chung or heading in from Mui Wo:
From Tung Chung, leave the MTR station and find the Taxi stand outside the main exit.
Directly across the main road (Tat Tung Rd) from the taxi stand is a series of bus stops outside Fu Tung Shopping Centre, find the line for bus 11 to Tai O and board when it arrives. You can pay cash but best to get an Octopus Card before you leave the MTR station.
From Mui Wo get off the ferry and either grab a Taxi and ask them to take you to Tai O bus terminal or take bus 1 to Tai O.
Get off at the Lung Tsai bus stop and walk back several meters and take your first right.
Follow the access road to the start of the trail then follow the signs to the campground.