Gearing up can be one of the biggest barriers to getting out of the city for many who aren't sure where to start or those who don't know if what they have will suffice. For those frequently getting out there gear is one of the most hotly debated topics, so no matter your reason for arriving on this page this is bound to be an interesting discussion!
First let's provide context for how we view our gear recommendations. In short, we start with the basic list of things you should consider brining in order to sleep away from people and infrastructure while keeping safe and relatively comfortable for the duration of your trip. The gear needed for this will be referred to as the "Solo Camper Basic Gear List". If multiple people are traveling together each one can use this as a reference on what to prep minus any shared resources like multi person tents etc... Lets get started:
STANDARD SOLO CAMPER GEAR LIST
Pack: 30-45L (1-3day) 65-75+L (3+day)
Sleeping bag or wool blanket (winter) & sleeping pad
Change of clothes
Small camping towel
Hat & rain gear (rain shell jacket, rain shell pants optional depending on season)
Headlamp and flashlight
Bush pot with lid for boiling water
Spork
Stick stove or gas can and mini stove
Fire steel or lighter
Tent with rainfly/tarp & mesh inner tent
Bug spray
Hand saw (small axes are hard to come by in Hong Kong so I've left them out)
Camp knife/Bushcraft knife
Water bottle
Food for duration of trip
Water for duration of trip (either carry in or obtain from site if available and you can purify)
Small First Aid Kit
Phone and backup charger
Paracord or equivalent ~20-50ft
Environmentally friendly multipurpose liquid soap
Almost without fail everything on this list I would have somewhere between a 50% and 100% chance of using anytime I go camping. Anything included that has less than a 50% chance of being used is either for redundancy (i.e. stick stove included as well as gas can and mini stove), or is not cumbersome to carry and would be missed in certain important or emergency situations (i.e. first aide kit, portable phone charger, para cord).
As I mentioned before, for regular campers and trekkers gear debates can get intense and in my humble opinion generally breakdown into three philosophies: Comfort Campers, Ultralighters, and Bushcrafters. There is no specific hard line between the three and many people steal from parts of each, but I think it's safe to say that the comments section on gear websites divide well along these lines. With that said, each philosophy has a lot of merit so its understandable that this is how people approach the issue so let me breakdown each one to help you get a better sense of the methods and benefits.
Comfort Campers: In short, these are the folks that pack for life at the campsite above all else and usually head out with heavier packs hauling more gear. As with any approach there are varying degrees here but you can usually expect the Comfort Camper to be dragging along camping chairs, the occasional cooler, comfy sleeping systems and lots of lighting and entertainment. You'll find lots of new innovative gear solutions and usually have a great time with this lot!
Ultralighters: You'll find plenty of discussions online about this movement, its massive and tons of money pour into it so all the big retailers are tripping over themselves to supply 'Ultralight' gear. The main philosophy here is that in order to enjoy the trek you should head out with as little weight on your back as possible. The good news is, where as in the past this would have meant a less comfortable time at camp, the quality and variation of ultralight gear available today is staggering meaning you don't have to suffer at camp to be Ultralight (or close to it) on your hike. The bad news? All the gear is really expensive. That said, borrowing a little from the ultra lighters for some of your gear isn't a bad idea regardless of your personal philosophy!
Bushcrafters: These are the salty dogs of the bunch, just kidding, but actually not really because true bushcrafters really are gluttons for punishment and revel in the idea of not just surviving using as little modern support as possible but actually carving a home out of the raw forest and thriving in the heart of the wild. Once again there are varying degrees here but the main theme for the bushcrafters centers around survival and blending in with nature. Bushcrafters are the most fastidious preppers balancing the needs of being fully ready for serious situations and keeping weight down. Often they will have heavy pacts but will be able to stay out in nature for long periods of time relative to the amount of stuff they've brought with them. For the most traditional of them you'll find lots of waxed canvas, fire steel in place of lighters and matches, traditional bushcraft knives, tarps and tarred twine etc... in their load outs. Bushcrafters pride themselves on improvisation and most will be able to start a friction fire in any weather conditions. For them building up the campsite is as important or more than the hike out or even the time around the fire at night.
I'll expect a lively debate on this, but whatever the opinion of the more experienced visitors, for those starting out or looking to get back into camping a web search on any of these three topics will lead you to a wealth of information on available gear, forums, youtube videos and other informational sites. For me personally, I like to think I borrow from all three disciplines. I like idea of bushcraft camping the most, but I try to be smart with my gear and love trying out new tech when it suits my needs. I probably align least with the ultralight crowd but will definitely add ultralight gear when it offers the best solution to a problem. In order to give some further insight into my approach, let's review what I keep in my 1-3 day load out and you can judge for yourself where I fall on the spectrum, and maybe get some ideas for yourself as well.
MY LOADOUT
My Pack: Fjallraven Abisko Friluft 45L
I love Fjallraven and have a ton of gear from them so full disclosure right upfront that I have a bias. That being the case, I'm not sure you'll find a lot of people bashing the brand as it's a favorite amongst the outdoor crowd. The Abisko Friluft in my opinion is no different and bound to become a classic due to its lightweight materials, comfortable suspension, and very very breathable webbed back panel. My favorite feature of this pack is that it has a huge front loading design making the main compartment accessible by unzipping the sides allowing you to pack like a suitcase and avoid having to go digging around in your pack to find what you need when you get to camp. Plenty of top pockets, waist belt pockets and a big external compartment accessible via a zipper on the back mean you can keep quick access to anything you need while on the move. It includes a rain cover as well and in my opinion is the best all around trekking pack on the market right now.
My Tent: Heimplanet Fistral
Probably the most controversial and at the same time coolest bit of gear I own are my Heimplanet tents. Traditionalists will complain that inflatable frames can't be reliable, ultra lighters will scoff at the 5lbs carry weight, but I guarantee anyone making these complaints hasn't tried these tents as a regular sleep system. I have used this consistently with great results. It packs up and unloads with groundsheet, rainfly, and inner mesh all attached and inflates in about 1-2 minutes. This means that you can set it up in pouring rain and the inside will be bone dry. The inflatable frame is also great in high wind as there is a little give and they just snap back into place, you'll never break them. I've even forgot the pump on one occasion and was able to blow it up manually with a little bit of patience and there is a multi chamber technology meaning you'll never have to worry about punctures. The only small criticism I have is that it squeaks a bit when you pump it up. Love this tent and highly recommend it! Buy Fistral
My Sleep System: Thermarest NeoAir Xtherm & Fjallraven Skule Three Season
The NeoAir Xtherm is a very expensive sleeping pad, but it will ultimately be the cheapest you ever buy because it is small, extremely warm and bulletproof. I can't say enough good about this pad and recommend spending the money if you can because it's great and will last forever. The Fjallraven Skule 3 Season doesn't pack down very small, but it is so comfortable that its the only sleeping bag I use and am happy to strap it to the outside of my bag. The materials are super soft and comfortable, the insulation is top notch and there is enough room inside to move around a bit at night. I have other sleeping bags but haven't looked at them much since I got the Skule. This is one of those items that puts me more in the Comfort Camper group, though I kind of make up for it with the Xtherm which is a favorite with the Ultralighters. Buy Skule ; Buy NeoAir
My 'Natural' Cook System: SoloStove & Snow Peak Pot
It's critical to have a cooking vessel anytime your camping and the Snow Peak Titanium is the only way to go in my opinion. Because it's Titamuin it's extremely light and durable and the combination lid/pan is great to use as a makeshift plate. To accompany this I have a SoloStove stick burner. This is a fantastic little addition. All you do is gather up sticks from the campsite and burn them in the stove, adding more every few minutes. It's a quick, easy, and failsafe way to boil your water or cook a quick meal without depending on a big fire or gas canister for heat. The best part about this setup is the SoloStove fits right in the Snow Peak pot. Wrap a kitchen cloth around it to use at camp and keep things from rattling around while your on the hike and you've got a ready made kitchen system that fits easily in your pack! Buy Snow Peak Pot ; Buy Solo Stove
My Hydration: Camelbak Chute 1L
Hong Kong is hot most of the time so keeping hydrated is priority number one when you're trekking through the mountains. I love these Camelbak water bottles for a couple of reasons. First, the mouth of the drinking spout is big and lets you drink a lot of water quickly. Second, it has that convenient handle making it easier to grab when its on the side of your pack, clip onto your belt for short walks, or hang up off the ground when you're at camp. It's also pretty rugged and mine has taken lots of abuse over the years without a hint of failure on the body, cap or seals. Buy Chute 1L
My Seat: Wax Canvas Stool from Bestmadeco.
This is a handy comfort item largely due to its dimensions when broken down and folded up. The highly flat profile means you can stash it anywhere from your internal water bladder pouch to the outside of your pack with little impact to your gear load out. The two things I don't like about it are 1) for a small stool it's pretty heavy at just over 2lbs and 2) as a stool it has no back support when other camping chairs of similar weight do. I will likely replace this with a Helinox ChairOne in the near future, but I'll definitely keep this one around given its packability, bulletproof materials and design.
My Health: LifeSystems Adventurer First Aid Kit
Luckily I don't get a huge amount of use out of this pack item, but the Lifesystems Adventurer First Aid Kit is a useful addition on the off chance something serious happens. Especially when camping with kids the included bandaids usually come in handy, and I have found myself using the scissors and tweezers on more than one occasion as well. The other handy items that my get used include the alcohol swabs and medical tape for various makeshift camping needs. Other items will hopefully never get any use as they would be needed only under very serious circumstances. That said its nice to know I'd have access to them in the worst case scenario and I highly recommend you to get this or an equivalent system for your pack. Buy Lifesystems First Aid
My Survival: SOLKOA Survival Kit by Bestmadeco.
This little kit is very pricy but in my opinion completely worth it. It contains 25 items to help you in any serious survival situation and the anodized aluminum case is sturdy enough to be used for digging, storage and even boiling water. With everything from fire steel to mylar blankets and even snare and fishing kits, this item of last resort or a cheaper equivalent is just as handy to keep in your pack as it is the glove box of your car. (details of contents here) Buy SOLKOA
My Possibles: Possibles Pouch (multiple items)
Any outdoors person will tell you have to have a possibles pouch. This is a bag or bags containing small things that you'll possibly need on your trip. I currently use a Fjallraven Large Gear Bag as my possibles pouch, which is made from pretty heavy material but is also built like a tank and can be used for many other purposes in a pinch. I keep everything from my coffee cup to my tent lighting in here. Specifically it contains: batteries, sanitary items, bug spray, clips, sun block, work gloves, fire steel, wax cord, paracord, mini sterno, fixed blade belt knife, sharpening stone, small multitool, flashlight, headlamp, duct tape, spork seasoning for food and and enamel cup. The possibles pouch is a must on your trip, but what goes in it can vary based on your needs so be sure to think this through before pulling one together.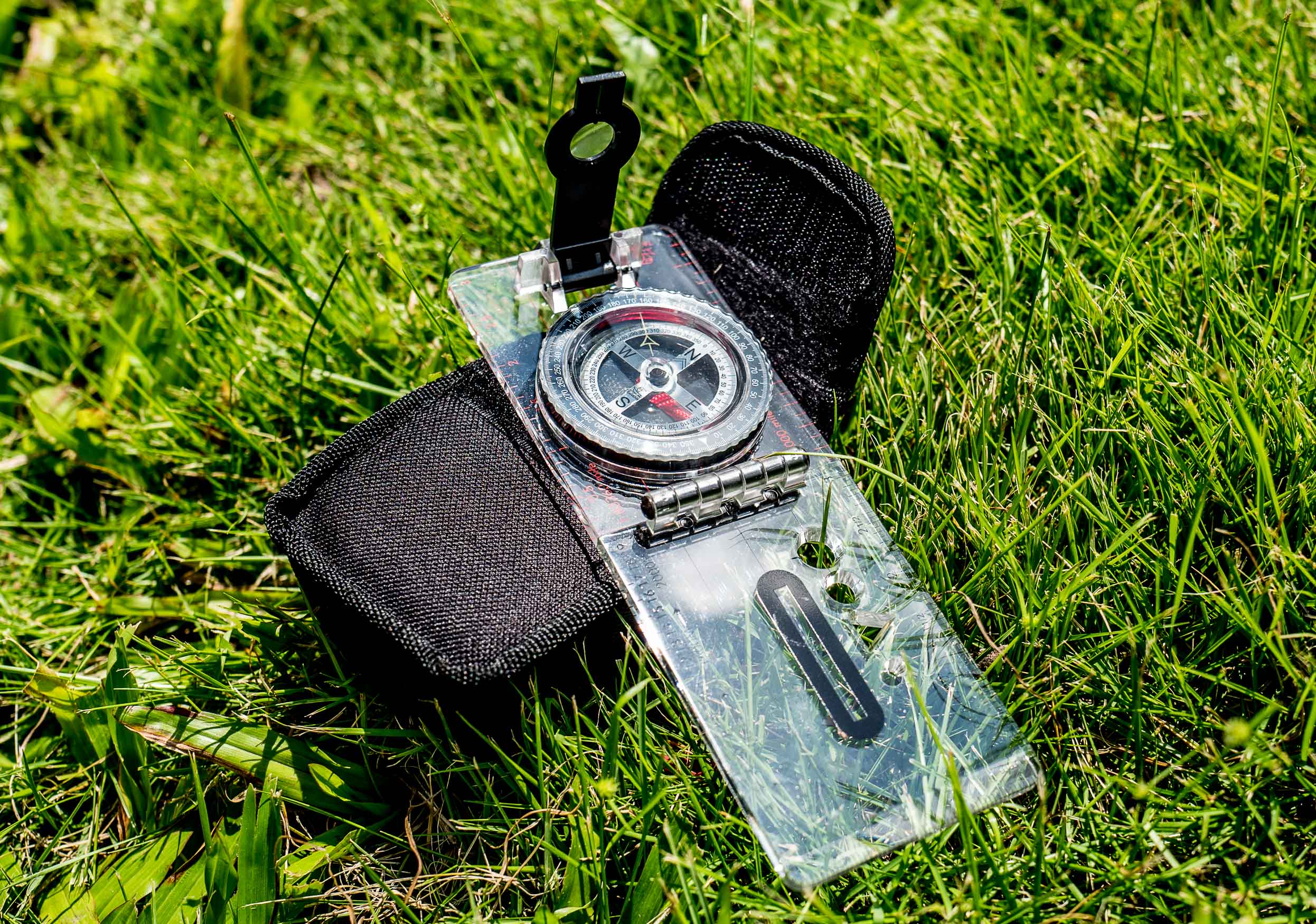 Ok, so in Hong Kong it would be a pretty strange situation where you would need a compass, but it's a good habit to keep one with you and practice using it with a map from time to time. You can scoop these up just about anywhere for pretty cheap as well so no reason not to keep one in your pack.
My Thirst: Church's Stainless Steel Round Flask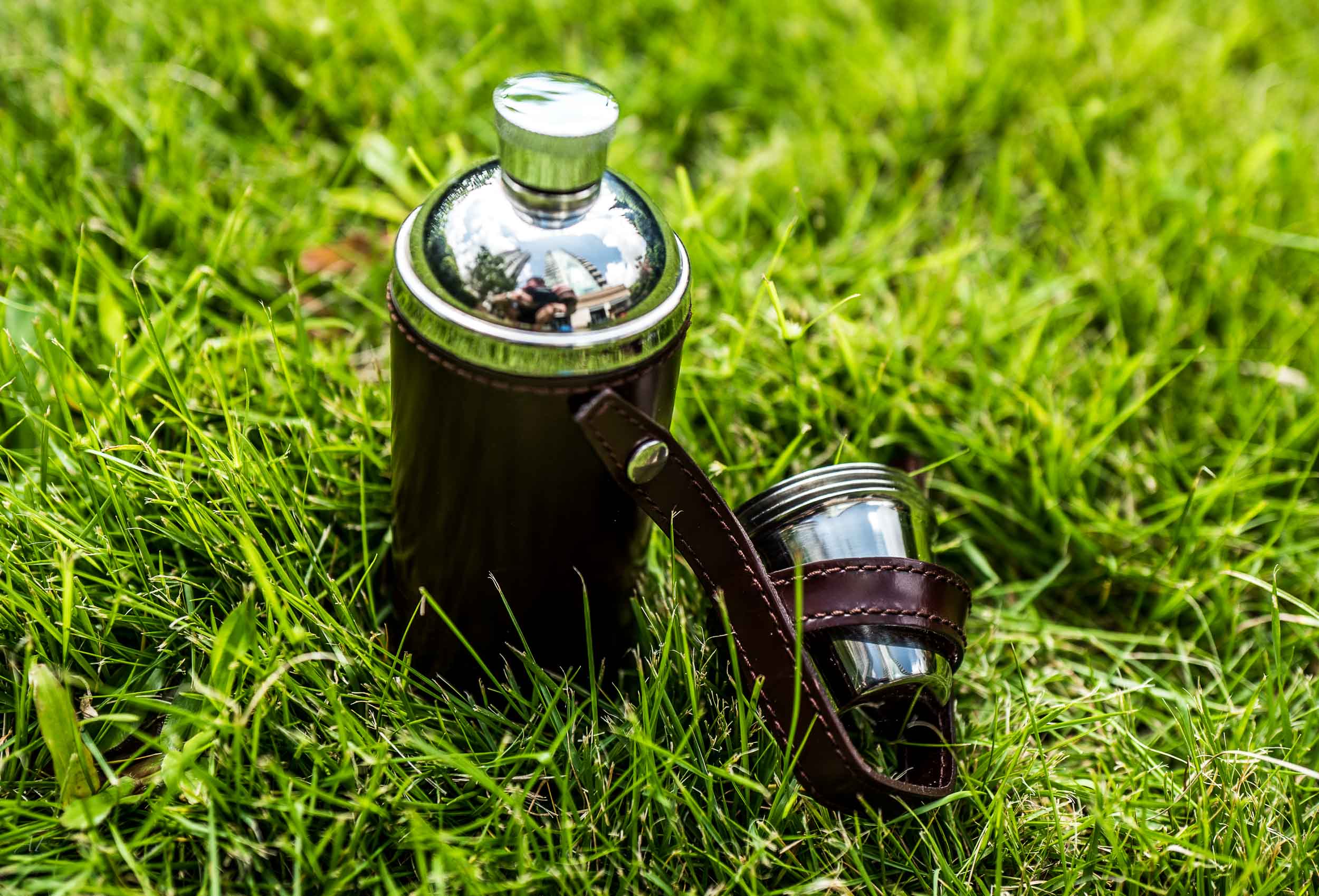 This was a guilty pleasure picked up years ago which has served me well on many longer excursions. It's nice to have a drink by the campfire but who wants to lug heavy beer bottles 15k through the mountains. A small flask is a great way to reduce weight and still get to enjoy your fireside time.